The Meek School of Journalism and New Media hosted a Meek & Greet event from 2-4 p.m. Thursday, Aug. 24, welcoming students to campus. The event featured music, snow cones, a Snapchat Meek & Greet geofilter, photo props, representatives from student organizations and local employers.
It was a great opportunity for students to interact with other Meek students and faculty. Those interested in majoring or minoring in journalism or integrated marketing communications could inquire about how to become involved in the Meek School's journalism and IMC programs.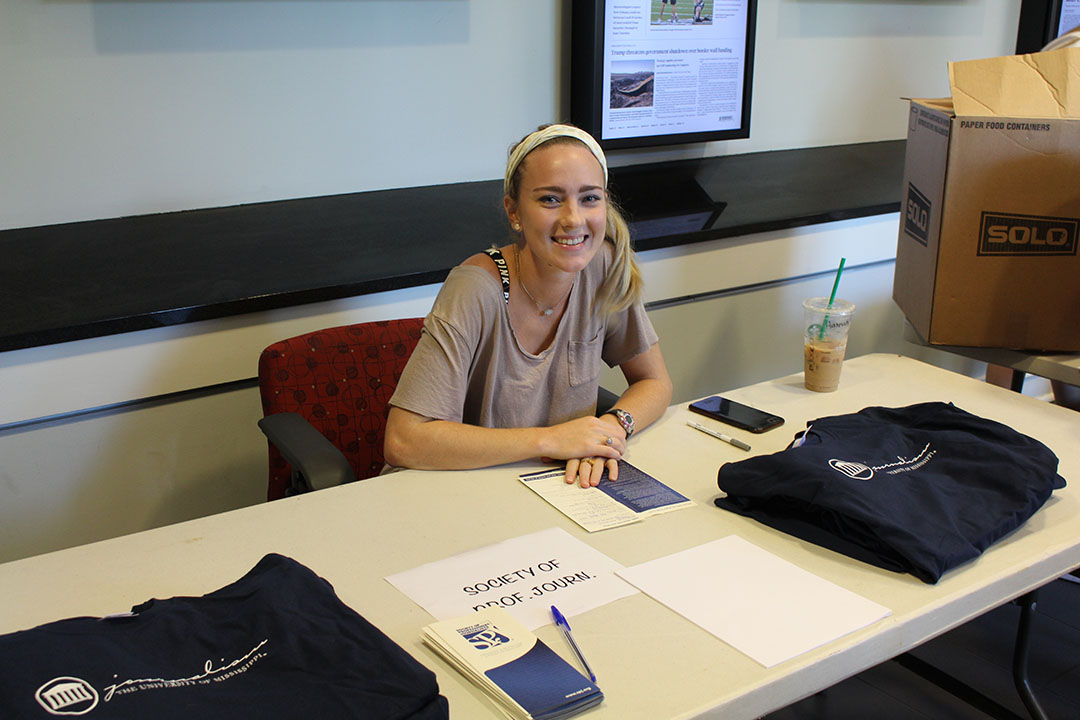 Hannah Humphreys, who is interested in the Society of Professional Journalists, said she wants to become more active on campus. "I've been looking for new ways to get involved," she said.
Humphreys volunteered to run the SPJ table at the Meek & Greet event, selling T-shirts and helping register other interested students for the organization. If you're interested in becoming involved in SPJ, email LaReeca Rucker at ldrucker@olemiss.edu.
The editors of HottyToddy.com, The Oxford Eagle and other local media members were on hand to provide information. HottyToddy.com editors Water Lyle, Steven Gagliano and Adam Brown handed out information to those who approached their table. Alex McDaniel, editor of The Oxford Eagle, was also present.
Leaders of the Student Media Center, including Lana Ferguson, editor of The Daily Mississippian, answered questions about how to work for the award-winning campus newspaper. In addition to DM representatives, in the photo above are Meek School student leaders representing The Ole Miss Yearbook (Editor-in-Chief Marisa Morrissette and Photo Editor Ariel/Cobbert) and Rebel Radio (Music Director Thomas DeMartini and News Director DeAndria Turner). NewsWatch representatives could not attend the event because the event was scheduled for a time that conflicts with newscast production of their live show, but they had materials available about auditions.
Student Amanda Hunt helped sell adorable Meek School of Journalism and New Media T-shirts featuring the name of the school and Farley Hall.
Outside, there was a Meek & Greet jam session with Dr. Jason Cain, a Meek School professor, and HottyToddy.com. There was also a pretty long line of students waiting for a snow cone, perfect for a warm day.
And students Alexis Lee, Caroline Goodwin, Natalie Reed, Katie Baique and Addy Berry posed for a photo with an Instagram photo prop.
Tags:
featured
,
imc
,
integrated marketing communications
,
journalism
,
marketing
,
Meek School of Journalism and New Media
,
Mississippi
,
Oxford
,
photography
,
Public Relations
,
reporting
,
social media
,
University of Mississippi
,
video
,
writing